We are at the end of the eighteenth century in Abbeville, 19,000 inhabitants, a peaceful, chilly city, shut up behind ramparts that have become useless, strong in its manufacture and its numerous convents and churches. It was here that the 20 Germinal of the Year VI was born, that is to say on April 3, 1798, Pierre François Pascal Guerlain, son of Louis François Guerlain (1776-1849), potter of tin and chandelier Manufacturer of candles based on tallow) and Marguerite Augustine Dairaine (1776-1805).
The shop of Louis François Guerlain is very prosperous and he decides to diversify and becomes a spice merchant, the young Pierre François is bathed from his earliest childhood by the smells of cardamom, saffron, cinnamon, ginger, thyme, laurel, Nutmeg, cloves, vanilla, all in an atmosphere of well-made work and paternal austerity where the values ​​of a certain bourgeoisie of craftsmen are prominent.
Pierre François has no desire to work with his father. He wants to carry the name of the family much higher, beyond the fragrant cradle of his childhood which made him an "expert in odors". It is decided: it will be in perfumes.
At the age of 19, in 1817, he announced to his parents and his older sister Augustine Thérèse Antoinette her desire to leave Abbeville to join Paris and embark on perfumery. Although disappointed, his parents will encourage him to the end.
It is within the house Briard, perfumers since 1787 that Pierre François will make his debut as a merchant clerk across Europe. He then enriched his experience in the commercial field and in terms of customer loyalty by slipping here and there a soap, a cream, a comb, a lotion.
In 1822, he was engaged in the company DISSEY ET PIVER, one of the oldest French perfume houses, created in 1774.
In 1828, after a visit to England and Abbeville where he embraced his family, Pierre François settled definitively in Paris as perfumeur vinaigrier and created at the same time the Parfumerie GUERLAIN at 228 rue de Rivoli.
In 1838, he launched a line of makeup and lipstick then his cosmetics line. At the same time, the first toilet waters come out: "scent of the fields", "bouquet of the garden of the King". Very quickly, the very upper bourgeoisie comes to frequent its perfumery.
In 1842 Guerlain moved to 15 Rue de la Paix and other perfumes came out: "imperial perfume", "bouquet de l'impératrice", "bouquet Napoléon" ... The Prince of Wales, the Queen of the Belgians, the Duchess of Berry are part of her faithful and high clientele. "Imperial cologne" comes out and is created especially for the Empress Eugenie, wife of Napoleon III.
Pierre François Pascal Guerlain died in 1864, leaving perfumery to his two sons Gabriel and Aimé. If Gabriel brilliantly manages perfumery, Aimé gives birth to many perfumes.
In 1894, the two sons of Gabriel, Jacques and Pierre enter the dance. Jacques, trained by his uncle Aimé, will also create other flagrances, especially in the Roaring Twenties, in the 1920s.
In 1912, a second shop opened in the Avenue des Champs Elysées and in 1926, after 100 years of existence, Guerlain established subsidiaries in Berlin and New York.
In 1933, J. Guerlain created "Flight of Night" in tribute to his friend Antoine de Saint-Exupéry. In 1935, he opened his third store Place Vendôme.
Not far from the second store, at 68 Avenue des Champs-Elysees, it opened in 1939 the world's first Beauty Institute. This place is now the head office of the company and has been listed in Historic Monuments since 1991.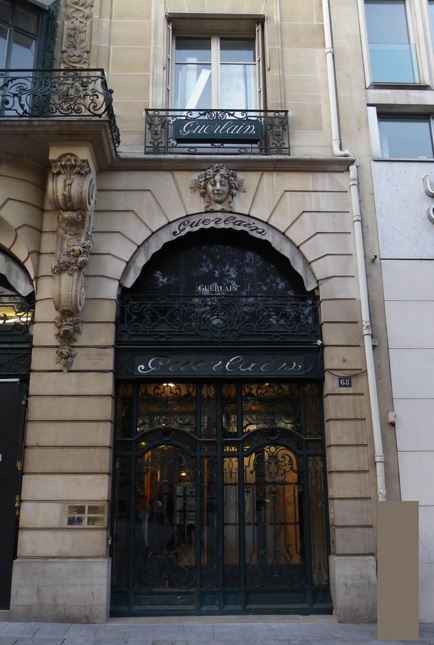 Jacques, aging, trains his grandson Jean-Paul, born in 1937 and joined the family home in 1955. He became its CEO in 1992.
The Guerlain house was then bought in 1994 by the Perfume and Cosmetics branch of the large luxury group LVMH (Louis Vuitton Moët Hennessy).
Since May 2008, it is now Thierry Wasser, Switzerland, who becomes the perfumer of the house Guerlain, thus ending a dynasty for 180 years. His first creation as such was an international success: "La Petite Robe Noire".
"Le roman des Guerlain", Elisabeth de Feydeau, éd. Flammarion, 2017.