The Bourdois was originally built in 1367, shortly after the present Belfry and served to the municipal assemblies whence the name of little Schévinage (small town hall). It was there that the power of the edicts was exercised.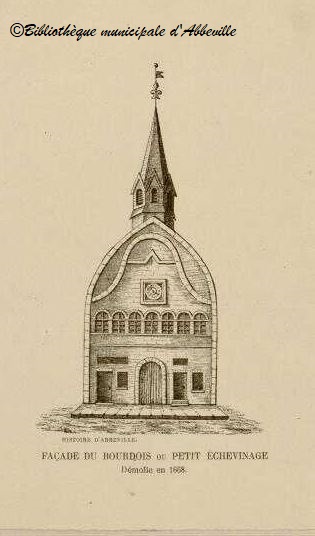 The clock fixed on this building was the very first clock installed in Abbeville in the 15th century, around 1480.
The building was then redone and the following picture shows it as it was in 1669.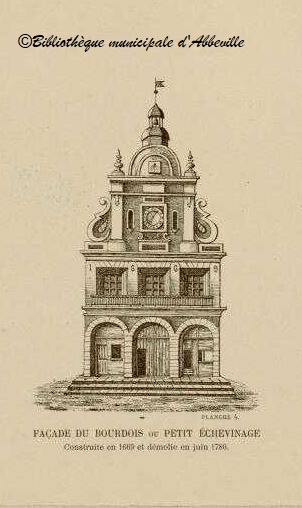 In 1730, the belfry was demolished and replaced by another.
In 1753, a balcony was added over which appeared the arms of the King, the Count of Ponthieu and the city. Let us recall that it was here, on July 1, 1766, that Chevalier La Barre was executed. Nowadays, on the place now become Max Lejeune, a plaque recalls this fact at the very place of execution.
In 1780, it was rebuilt. It was occupied only by the people of the Presidial (Court of Justice of the Ancien Régime) and of the town hall on the market days where the bonfires were lit and the days of " execution.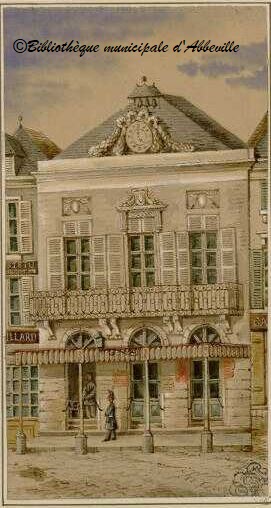 The Bourdois sheltered the library of the city until 1813 to make then place to "Justice of Peace" then the police station settled there from 1871 until the fateful date of May 20, 1940 when the Bourdois disappeared forever, annihilated by the bombardments .